Meet the Researcher: Valeria Sarmiento '20, Molecular & Cell Biology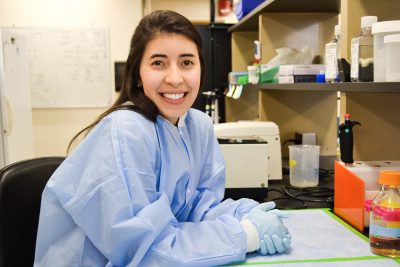 March 11, 2020 - Samantha Korittke '21 (CLAS), Office of the Vice President for Research
College is what you make of it and Valeria Sarmiento has undoubtedly made the most by pursuing her passions and trying to better understand the world. From a young age, Sarmiento had always been curious about the world and its inhabitants.
"Ever since I can remember, when I looked at the nature outside and human body within, I would always stand in awe of its beautiful and perfect design, inspiring me to want to learn more."
Originally from Colombia, Sarmiento and her family moved to Norwalk in the wake of a natural disaster. As a bilingual speaker, Sarmiento has always felt a connection with her "people" – those in Connecticut and in Colombia.
Her time at the University of Connecticut has allowed her to work on projects that will, hopefully, have a positive impact for Sarmiento's "people" and society as a whole. Initially her curiosity would lead her to pursue a major in molecular and cell biology at UConn. She loved the opportunity to get into the lab, but by her sophomore year, Sarmiento knew something was missing. After careful consideration, she realized what that missing piece was: people.
Since she has always enjoyed interacting directly with people, Sarmiento knew that working in a lab forever was probably not her dream job. With that in mind, she began exploring multiple majors that placed a heavy emphasis on people including anthropology, nutrition, and allied health.
When Sarmiento discovered that UConn provides students the opportunity to create their own individualized majors, Sarmiento jumped at the chance. With guidance and support from advisors and professors, Sarmiento eventually designed her own major: Global Health & Nutrition, which consists of medical anthropology, public health, sociology, and nutrition classes.
Making Her Mark
With the option to choose her own path, Sarmiento has been able to explore all of her research interests and find ways she can use her knowledge to help society on a global scale. In the summer of 2018, Sarmiento traveled to China's Shanghai Jiao Tong University on a seven-week research trip. This trip gave Sarmiento the opportunity to work in a lab studying genetically modified rice and present her research before fellow scientists.
"Going abroad and learning about a different culture was such an inspirational and eye-opening experience. I love learning about cultures, why people do what they do,  and getting my hands dirty," Sarmiento says.
Sarmiento credits her experience as a scholar in the Louis Stokes Alliance for Minority Participation (LSAMP) program for helping her make connections to advance her research. Through the LSAMP program, she learned how to connect with other scholars, to develop her own research agenda, and had access to funding to enhance her education with experiential opportunities like the research trip to China.
Intent on making her own mark, Sarmiento was ecstatic when she received a UConn IDEA Grant for her research project on toxoplasmosis. She reached out to Aoife Heaslip, a professor in the Department of Molecular and Cell Biology because she was interested in the work her lab was doing.
Looking back, Sarmiento says everything clicked once she met Heaslip.
"She believed in me and took the time to show me what she had done in the past. In the time it took me to see how passionate she is about her work, Aoife saw how committed I was to research Toxoplasma gondii specifically."
Toxoplasma gondii is a parasite that causes toxoplasmosis, an infectious disease that is especially prevalent in Colombia, Sarmiento's home country. On a trip in 2017 when she was able to shadow biomedical students and doctors in a parasitology clinic, Sarmiento saw firsthand the problems T. gondii was causing.
"It was really that trip to Colombia that started all of this: specifically, seeing the patients, babies and toddlers, that were affected by the parasite. When the parasite is active, it can affect vision and cause congenital neurological defects.  Seeing firsthand patients wrestling with their vision stirred my heart to want to do something. I have always said, these hands and passion for serving have to be useful for something," Sarmiento says.
Another moment of significance was a statement a doctor made to her about wanting to heal those affected and make a difference. In that moment, Sarmiento knew she wanted to make a difference, too. As a result of her research, she returned to Colombia two years later to attend the biennial International Toxoplasmosis Conference to present her work.
Sarmiento is happy about what she has achieved so far, and she hopes to one day make discoveries that will help people. Most importantly, Sarmiento conveyed a deep love and appreciation for Colombia and the United States and she aspires to visit more countries around the world and make her own mark. Sarmiento plans to apply to medical school, but she also wants to be in the field and "get her hands dirty." At the end of the day, that's where she can help people.
---