JD Tamucci
Expected Graduation: December 2023
Research Group: May Lab
Academic/Research Focus: Structural Biology, Biochemistry & Biophysics
Hometown: Wilton/Norwalk, CT
Why did you choose a graduate degree in Molecular & Cell Biology and how did you decide on your area concentration?
I first became interested in the mechanistic underpinnings of health and disease as an undergrad here at UConn, where I took upper-level biology and chemistry classes as electives alongside the Spanish major required by my Air Force ROTC scholarship. When a medical disqualification and Honorable discharge put an abrupt end to my military aspirations, I decided to transition to a different form of service through biological research. That week, I met with Dr. Adam Zweifach to discuss my situation and interest in molecular biology. Empathizing with my predicament, he allowed me to submit a (very) late application to the MCB Masters program. I applied that Saturday and was accepted the following Monday.
So, I began my graduate training as a master's student and used my first couple years to catch up with my peers and explore different research disciplines. While I found topics of interest in every area of concentration, I opted to pursue the structural biology, biochemistry, and biophysics (SB3) concentration. I chose SB3 because I enjoyed learning about the laws which dictate the structure and dynamics of molecules relevant to disease. It was intellectually satisfying to visualize the lessons from our classes, to see how small changes to a protein or membrane could cause so many downstream health problems.
These same interests drove me to join Dr. Eric May's computational biophysics lab. And after 3 years, I knew that I enjoyed research and wanted pursue it as a career. I successfully upgraded to the PhD program shortly thereafter.
Why did you choose UConn? 
Since my application process was atypical, I'm going to share a few reasons why I'm glad I chose UConn for grad school. On the research side, UConn is an R1 research university. Our department has access to a diverse array of excellent, multidisciplinary research facilities on-campus---many of them are in our buildings. Being in the tri-state area puts us at most a few hours away from the those remaining techniques we can't do well here. On the department side, we are big. Our faculty's research foci span from foundational to ultra-niche. It gave me the opportunity to explore many different topics before selecting a lab.
There are practical benefits to being a student at UConn too. A great deal of us get paid by serving as teaching assistant (TA) or research assistant (RA). Those positions are protected by a union and come with full medical, dental, and vision benefits for an excellent price.
As for this part of Connecticut, well they call it "the quiet corner" for a reason. Storrs has a small downtown area with food and a grocery store. Beyond that, we're surrounded by woods, farm land, and hiking trails. But Connecticut is a small state. There are excellent restaurants, niche stores, and breweries all within 20-45 minutes. I like having the balance of the wilderness in my immediate area and most everything else a short drive away.
Describe your research experience and the impact it has had on you.
My research revolves around using molecular dynamics, or MD, simulations. These computer simulations let us "see" how tiny things like individual proteins would behave in different contexts. Understanding how proteins move in those contexts can tell us how they function and sometimes help us treat diseases.
When I started as a grad student, I had never done any coding or even heard of MD simulations. What got me hooked was that MD simulations produce a "molecular movie." I loved the idea that I could literally see how proteins and DNA would wiggle around. I had a quite a bit to learn before I could run these myself but Dr. May gave me the space and assistance to build those skills. With the help of Dr. May, lab members, and the Internet I have since learned to code in bash, write analysis scripts in Python, and run simulations on UConn's supercomputer (Storrs High Performance Computing).
Conducting research showed me that I enjoy the puzzle of pursuing a question with the scientific method. More explicitly, I learned that I enjoy coding and data analysis, and maybe more importantly, that I don't mind troubleshooting. Very few experiments or analyses go correctly the first time. Knowing that I could deal with and sometimes even enjoy troubleshooting a stubborn problem told me that research was a worthwhile future to consider pursuing.
How has UConn shaped you as a person?
UConn has been my home since I arrived as an undergrad and Air Force ROTC cadet in the Fall of 2012. It has shepherded me through several major life transitions. It offered the space and tools to develop professionally as a scientist, teacher, leader, and team member. UConn let me explore academic interests, like taking MCB courses on a whim, and non-academic ones, like going rock climbing and bikepacking with UConn Outdoors. I have been extremely fortunate to attend, be mentored, and grow at this school. I'm genuinely not sure who I'd be or what my life would look like without my experiences at UConn. In any case, I am grateful for what this university has helped me to become.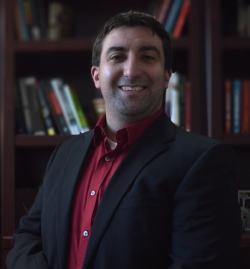 Anthony Patelunas
Expected Graduation: Summer 2020
Research Group: Goldhamer Lab
Academic/Research Focus: Cell & Development Biology
Hometown: Windham, CT
Why did you choose a graduate degree in Molecular & Cell Biology and how did you decide on your area concentration?
Since I was a child, the natural world fascinated me. I spent my summers growing up wandering the hillsides of upstate New York and catching wildlife in the creek near my parents home. I wanted to pursue a research career out of pure curiosity for how life works, and I saw a PhD as the path to do that. As I became more serious about pursuing research I focused in on a question of how structures develop and how that relates to their function. Every area of biology can pursue this question at different levels, but I was enamored by the beauty of the embryo; a single cell can give rise to the diversity of anatomy and tissues that make up life. Thus, I joined the Cell and Developmental Biology concentration and began to study limb muscle development.
Why did you choose UConn?
I chose UConn for a complexity of reasons including location and the MCB department. The location was ideal to my interests, sitting quietly in eastern Connecticut among bucolic countryside reminiscent of my childhood home. Even with nature readily available, UConn is also a short drive to Providence, Boston, and New York City which provide ample opportunities without needing to live in the city. Additionally, the MCB department had a variety of research opportunities and many successful faculty. The diversity of research in the department was a huge selling point because it enabled taking my research question into very different systems and view it through many different techniques.
Describe your research experience and the impact it has had on you.
My research experience in the department has provided both deep intellectual stimulation and personal growth. Coming into the department I had minimal genetics experience but with advances in sequencing and CRISPR/Cas9 in the forefront of popular science, I knew I needed to learn genetics. Joining David Goldhamer's lab provided the fastest crash course in genetics I could imagine, immediately working with Cre/lox conditional knockout animals and conditional lineage tracing alleles. In parallel, the CGI acquired Fluidigm, and then 10x Genomics, single-cell RNA sequencing equipment which I incorporated into my investigation of muscle stem cell lineage.The opportunity to work in David's lab with the facilities of the MCB department has propelled me from a curiosity about development to a deeply understanding the genetic regulation of vertebrate limb development.
How has UConn shaped you as a person?
UConn as an institution has provided opportunities beyond just my scientific development. I've become a more well-rounded person and a leader as a result of the UConn community. Through the Graduate Student Senate I've had the opportunity to engage is scholarly discussions with my peers from other departments and make friends beyond the confines of the lab. Additionally, the UConn alum community has a cohesion unlike the previous institutions I attended. As I look to end my time at UConn, I've had introductions made to alumni working in Washington DC, New York, and Boston, all willing to sit down and talk or take multiple phone calls to explore my career prospects. Even on a recent vacation trip I was stopped by three different people to talk about UConn and express their love for the institution. By engaging with the greater UConn community, the room for personal and professional growth is boundless.
What do you like most about the MCB community?
I've always felt a great deal of support from both my graduate student colleagues and the faculty in the department. During my first year, all of the faculty I emailed to talk about potential research interest willingly met with me and helped me decide how I should move forward. As I've advanced through the program, I still feel like I could reach out to any faculty in the department with questions about my professional and scientific aspirations. Additionally, the graduate students have built a community in our department that facilitates constructive feedback on your work and a social outlet when you need to step away from the rigors of the lab.

Danielle Lesperance
Expected Graduation: Summer 2021
Research Group: Broderick Lab
Academic/Research Focus: Microbiology
Hometown: Somers, CT
Why did you choose a graduate degree in Molecular & Cell Biology and how did you decide on your area concentration?
I had been working as a research technician after graduating with my Bachelor's and realized I wanted to be able to take more control of the science I was doing. I liked bench work but I knew I needed to develop more independence and critical thinking with regard to creating hypotheses and designing experiments. While I was involved in research that would be considered more "cell biology" than anything else, I had always been drawn to microbiology and the microbiome in college and was eager to get into that field despite not having much practical experience with it.
Why did you choose UConn? 
I interviewed at multiple schools and didn't feel the "fit" I had been looking for at any except UConn. Despite being a large department in a large university, the MCB department felt friendly and manageable.  There was also a very pronounced emphasis on the collaborative nature of the department so I knew it would be a supportive environment rather than competitive.
Describe your research experience and the impact it has had on you.
I study the how the microbiome shapes host physiology in the Drosophila melanogaster (fruit fly) model system. I didn't intend to work on flies coming in to graduate school but after spending the last 4 years with them, I can't imagine working on anything else. Using such a tractable and widely applicable system has allowed me to explore connections between the microbiome and other aspects of physiology (immunity, nutrition, metabolism) that are more difficult to untangle in more complex organisms. I believe this experience has helped me think more broadly as a scientist and to consider health of an organism as a whole rather than in just one area of the body, which I have found to be important in helping me develop new hypotheses and research aims.
How has UConn shaped you as a person?
I have met people from all different backgrounds during my time at UConn, and have learned about the unique challenges that different groups of people face in their lives and careers. This has offered me new perspectives on my own life and opportunities I've had, and will influence my thought process in all aspects of my life moving forward. I hope that this empathy will guide me to be a positive force in the world.
What do you like most about the MCB community?
The MCB community is full of people who care. I have found that the faculty, administrative staff, teaching staff, and students are people who can be depended upon when you need them, whether your problem is a scientific one or not, and it has made my experience as a graduate student a positive one.