Rachel O'Neill, professor in the Department of Molecular and Cell Biology and Department of Genetics and Genome Sciences is one of three UConn scholars honored this year with its most prestigious faculty title, the Board of Trustees Distinguished Professor
O'Neill's work centers on how genomes function and evolve.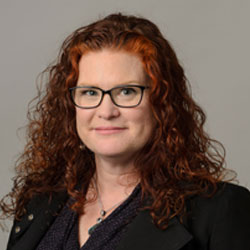 She uses cutting-edge genomic, computational and imaging approaches to gain fundamental insights into chromosome biology and genome evolution in a wide variety of organisms. Her studies on the structure and function of chromosome centromeres, essential for proper chromosome segregation during cell division, have shaped the field of centromere biology. She is highly sought-after as a collaborator on large-scale national and international projects that require a high-level expertise in genome assembly curation.
O'Neill's work on repetitive DNA, which makes up about 50% of the human genome but is frequently dismissed as "junk DNA", has had far-reaching impact, including on normal fetal and placental development, the discovery of novel retroelements, evolutionary breakpoints and chromosome evolution, and continuing challenges to the centromere paradox. She is part of the team that released the first complete human genome sequence, published in a series of papers in Science. Her 2010 publication titled "Chromosomes, Conflict, and Epigenetics: Chromosomal Speciation Revisited", remains one of the most cited reviews from the Annual Review of Genomics and Human Genetics. Collectively, O'Neill has published more than 100 peer-reviewed articles and led or contributed to projects that have brought over $23 million in extramural funding to UConn.
O'Neill is also the director of the Institute for Systems Genomics (ISG). As Director of the ISG, she has developed multiple new degree programs, initiated core facilities and programs (including the SARS-COV2 Surveillance Program) and established the iGEM and Genome Ambassadors outreach programs. Most recently, O'Neill organized and hosted Nobel Laureate Dr. Jennifer Doudna for the ISG Distinguished Lecture series, an event that attracted about 1,800 attendees for the live virtual presentation.
O'Neill also is part of the team that spearheaded the COVID-19 testing efforts at UConn that have helped UConn remain safe, efforts that were widely praised throughout the country including by White House Coronavirus Response Coordinator (2020-2021), Dr. Deborah Birx.
O'Neill has been recognized with several honors for her teaching, research and service, including a UConn Excellence in Teaching award, a Connecticut Women of Innovation – Academic Leadership Award, and is an elected member of the Connecticut Academy of Science and Engineering.
---