MCB held a Departmental Retreat on Thursday, August 26th. After welcoming remarks, the 2021 MCB graduate awards were announced.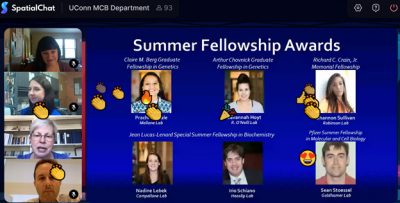 Following a 'Get to Know the New Students' event, new faculty member, Assistant Professor, Jelena Erceg presented a talk, "Genome Folding and Regulation in Diploid Multicellular Organisms"
A fun trivia session preceded the Lab Poster Sessions. The virtual event was held on a fun, new platform called SpacialChat that split the presentations into 5 different poster rooms allowing attendees to circulate among the rooms. The retreat finished with a Social Mixer with Happy hour rooms. Screen shots of the event can be found here.
---