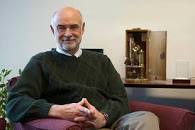 David R. Benson, Ph.D., Professor of Microbiology, retired on June 1 after more than 40 years at UConn. Dr. Benson's distinguished career includes service as Head of the Molecular and Cell Biology Department from 2007-2012. During that time, he oversaw the expansion of the department personnel, doubled undergraduate course enrollment, built administrative protocols and brought national visibility to MCB, and increased graduate student recruitment. Dr. Benson's guidance encouraged department members to participate in public and community outreach thereby highlighting awareness of the department.
Friend and colleague, Dr. Peter Gogarten describes Benson as "an encouraging mentor, advisor and co-advisor, an effective cheerleader for students, colleagues, and the department." As colleagues mutually interested in the use of anciently duplicated genes in unraveling the early history of life, Gogarten says, "Our collaborations on the comparative genomics of Frankia strains, transposable elements, and the secretome of Frankia grown under different conditions launched several students onto successful scientific careers."
Dr. Benson received his doctoral degree from Rutgers University in Microbiology and Biochemistry and did postdoctoral work at the University of Wisconsin, Madison in biochemistry before coming to UConn in 1980. Benson's research and teaching expertise are in the Microbial genomics, microbial biogeography and ecology, physiology and molecular biology of bacteria, symbiosis, psychrophile evolution, food microbiology, bio-security He is particularly interested in genomic and biochemical characteristics that align with the distribution of microorganisms in environments.
Dr. Benson served as a Jefferson Science Fellow to the U.S. Department of State from 2012-2017. As a Jefferson Fellow, he served as a Senior Science Advisor to the Biological Policy Staff in the Bureau of International Security and Non-proliferation. In addition, he is a Fellow of both the American Association for the Advancement of Science (AAAS) and the American Academy of Microbiology and was twice elected as the Chair and Councilor of the General Microbiology Division of the American Society for Microbiology and has served on the Editorial Board of the journal Applied and Environmental Microbiology. He has been elected to the Connecticut Academy of Arts and Sciences and served as visiting professor at the University of Waikato, New Zealand.
Dr. Michael Lynes, professor and current head of the Molecular and Cell Biology Department said, "I celebrate David's career – for his achievements and the investments he made in other faculty and their success, his contributions to the scientific community in MCB, his teaching of content critical to our students, and for his role as a thoughtful and cheerful colleague." Dr. Benson has been appointed by the UConn Board of Trustees as Professor Emeritus, Molecular and Cell Biology.
---